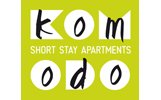 Welcome to Komodo Apartments: a new way of experiencing the city of Trento, for holidays or for business!
Komodo Apartments: comfort and functionality…
Set in "Le Albere" neighbourhood of Trento - designed by the famous architect Renzo Piano and surrounded by greenery - Komodo Apartments are modern and functional apartments, equipped with all comforts.
Komodo Apartments are perfect for a holiday to discover the picturesque town of Trento and for business trip.
…to stay in Trento enjoying the freedom of a holiday apartment!
Their prime position - set in a pedestrian area surrounded by a nice park, easily reachable from the highway, close to the city center, a few steps from the cycle path that runs along the Adige and from the MUSE Museum - makes them the perfect place for a relaxing holiday with family or friends but also for business trip. All the apartments are wide and bright, fully equipped and have a free underground parking. Komodo Apartments: a modern and functional accommodation for your stay in Trento!