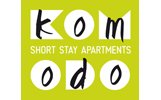 Welcome to the Komodo Apartments: a new way of experiencing the city of Trento, for business or pleasure!
Komodo Apartments: comfortable, functional and modern...
Located in the "Le Albere" district of Trento – designed by the famous architect Renzo Piano and totally immersed in greenery with views over the surrounding mountains – the Komodo Apartments are modern, functional and equipped with all the comforts you need. They are a great option for anyone visiting the pretty, bustling city of Trento and the beautiful surrounding area which offers so much in the way of nature, art, culture and food, as well as for business travellers. You'll immediately feel at home, but with the added advantage of staying in a real open-air work of art.
... for a home-from-home stay in Trento!
The prime position of the Komodo Apartments – within easy reach of the motorway and near the city centre, the cycle path that runs along the Adige river and the MUSE Museum – and their unique setting – a pedestrian complex with a huge park – make them perfect for a relaxing holiday with family or friends, as well as business trips. All the apartments are spacious, bright and airy, they are fully equipped and there is a large, underground car park so you don't have to worry about where to leave your car. Komodo Apartments: a modern and practical option when staying in Trento!
Komodo Apartments
Piazza delle Donne Lavoratrici, 13
38121 Trento - Italy
E-mail:
komodo.trento@gmail.com
Telefono: +39 0461 1840023